Conservatory Roof Repairs & Replacements in Cumbria & SW Scotland
Time to get that leaking conservatory roof fixed? Get in touch with Evolve Conservatory
Specialists for all your conservatory roof repair and replacement needs.
Evolve Conservatory Roof Repairs in Cumbria & SW Scotland
Conservatory roof repairs need an expert and Evolve, based in Carlisle, is a Conservatory Specialist. Traditional conservatories with fully glazed glass or polycarbonate roofs need regular maintenance and cleaning as well as occasional repair – and there is great potential for replacement too.
The latest technology for conservatory roof insulation and lightweight materials has opened up many possibilities for glazed roof replacement. A glass or polycarbonate roof can now be replaced with a tiled conservatory roof instead of needing to replace the whole conservatory. Lightweight conservatory roofs mean that there are now much more economical home improvement options.
If you want clean lines, a simple shape and a modern feel, Evolve can help.
If your home needs something more traditional, perhaps in a Victorian or Edwardian style, we can advise.
If you want a cost-effective approach that adds space and light to your home within a limited budget, call Evolve and we can discuss options such as lean to conservatories.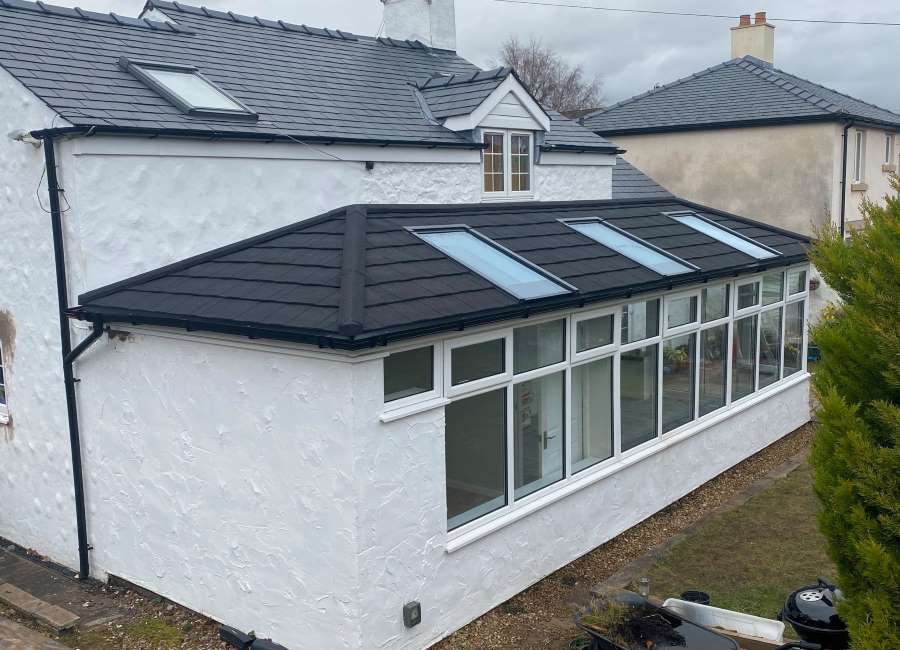 Roof repairs range from roofing panel leaks to solving guttering problems
A solid roof gives better insulation and temperature control than glass panels
Roof systems vary but Evolve has the expertise to repair most styles
Conservatory roof replacement with the latest technology
Evolve is proud to work with Supalite and Guardian, the market leaders in solid roofing for conservatories. Lightweight materials and clever construction mean that existing conservatories can be refurbished with a replacement roof system. Conservatory roof replacement creates a room that is thermally efficient and that makes your conservatory living space usable throughout the year.
With a solid conservatory roof, you have all the advantages of natural light with the added benefits of improved temperature control and energy efficiency. Those factors are crucial with the climate in Cumbria and elsewhere in the North of England and Southern Scotland – you want to make the most of any sunshine without overheating and still enjoy the natural light when the temperature outside is wintery.
Replacing your roof does not currently require planning permission but there are building regulations that cover conservatories and roof replacement. We can deal with the arrangements for these as part of our service.
That's why working with a conservatory specialist like Evolve can save you time and money as well as ensuring that you achieve the conservatory of your dreams.
Evolve Conservatory Specialists: service and customer care as standard
If you'd like to explore the conservatory roof conversion or repair options, please call us.
We're happy to go through your requirements and agree on a home visit (no obligation) for initial surveying. Seeing your existing conservatory also means that we can check its structure and the potential to create your ideal sunroom with a solid roof.
Service and customer care are at the heart of our approach to business – they're what our local reputation is built on – and you can have the reassurance of dealing with experts.
We look forward to hearing from you.